Our goal is to raise traditional, working farm/stockdogs with the drive, intelligence & biddability to help you around the farm, while also striving for the quality to strut around the show-ring. . . the Can Do It All Corgi. We do have the occasional puppy who isn't quite as driven/dynamic, who may be an appropriate candidate for someone who lives in town, given that the puppy will be provided with the exercise & mental stimulation required for everyone's overall well being. We also may have a started young dog to offer, on occasion.
Our dogs are part of the family & included in all of the daily farm activities, inside & outside. They're accustomed to all sorts of animals, large & small, furred & feathered, & do well with all of them. Their all-time favorite activity is helping with chores - especially when it involves rounding up & putting away renegade goats!
Our puppies are born & raised in the house & start going outside for play/potties just as soon as they're able. They get lots of exercise, fresh air & sunshine that's so important to the development of strong muscles & lung capacity & imperative to a dog's overall longevity, hardiness & abilities to do their jobs. Once they're mature/agile enough, they start helping us with the chores, learning how things work with the various livestock species we raise & trying to copy the mature packmembers in their "helping endeavors". Nothing cuter to see than a teensy Corgi puppy, pounding along just as fast as his/her little microlegs will let/him her, trying to keep up with the grownups!
We don't have a set age that our puppies are offered to their new families as it varies greatly by litter. It is based upon their development, when we feel they have attained the mental & emotional maturity & stability we feel is necessary for a puppy to be able to make the transition to a new home/people/animals/environment/etc. & after they've been thoroughly evaluated to help us know what type of home/people will be the most appropriate for them.
We prefer that our puppies go to busy, active farm families who are educated about the herding breeds & who also have at least one other canine family member.
If you're interested in adding a Lost Nation canine to your family, please send an email telling us a little about you & yours, your environment, the daily routine/work schedule, other animals, & what you're looking for in a dog, to
colonel@wcomco.com
Felicia - Poco & Freya's first daughter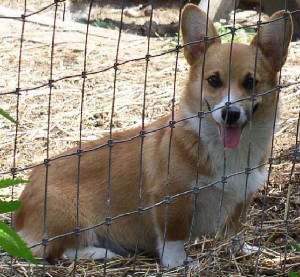 While our Corgis are beloved family members who live in the house with us, they are expected to do the work of actual stockdogs for which the breed was originally intended . . . No couch-potato/lap-warmer slouches around here! :)
It took us several years to find dogs fulfilling as many of our specifications as possible, to act as our foundation. Our foundation pair, Poco & Freya, both came from working farms/ranches & are both proven workers whose offspring are exhibiting a very nice blending of sire's & dam's best attributes. We could not be more pleased with the overall quality & consistency of the puppies they have produced, thus far.
We do not have a kennel & we do not breed "for profit". We take our Corgi endeavors very seriously & along with the sincere intent to create superior quality Corgis, we are equally as serious abt our responsibility of doing everything we possibly can to try to make the best puppy/human(s) match!
That being said all of our puppies are sold on an individual "private treaty" basis, whether it be for a companion/working/competition home or for a show/breeding home. When inquiring about current or future availability, please
be sure to include as many details as possible regarding what type of puppy you feel would be most appropriate for your family/environment/etc., in order that we (as in: you AND us) may work together to make the most suitable puppy/people match.
If you're interested in adding a Lost Nation Corgi (or any other puppy/dog we have to offer) to your family, please email telling us about you & yours, what type of home environment you have, the work schedule & daily routine, what other types of animals you have, activities the canines are involved in, your experience w/ dogs in general & w/ herders specifically, what type of personality/drive level/working abilities/etc. you're wanting in a dog, & what you think is so special abt Corgis! colonel@wcomco.com
Thanks for reading & we look forward to hearing from you! :)
Freya, Fiona, Poco - Spring, 2010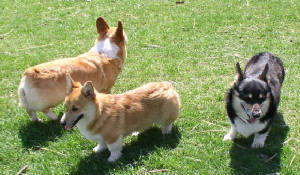 Poco - January, 2010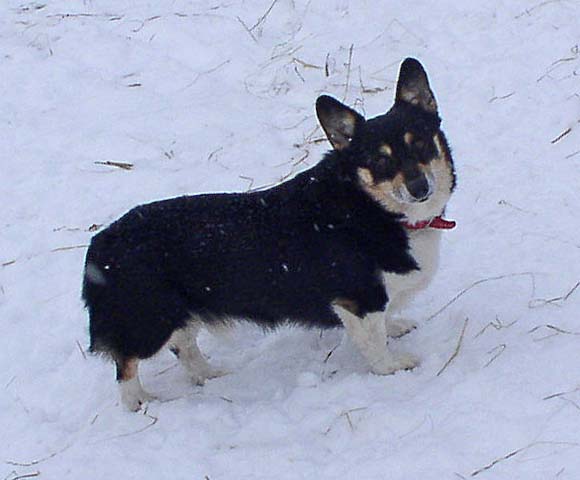 Freya snowplowing!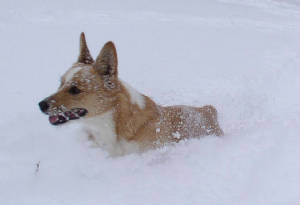 Freya helping with gleefully boinging goat kids!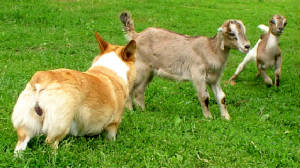 Fiona - Poco x Freya daughter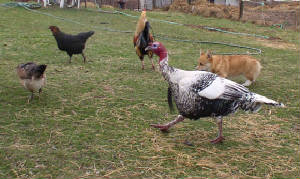 showing her excellent working abilities!
Who said Corgis are a loose-eyed breed?!