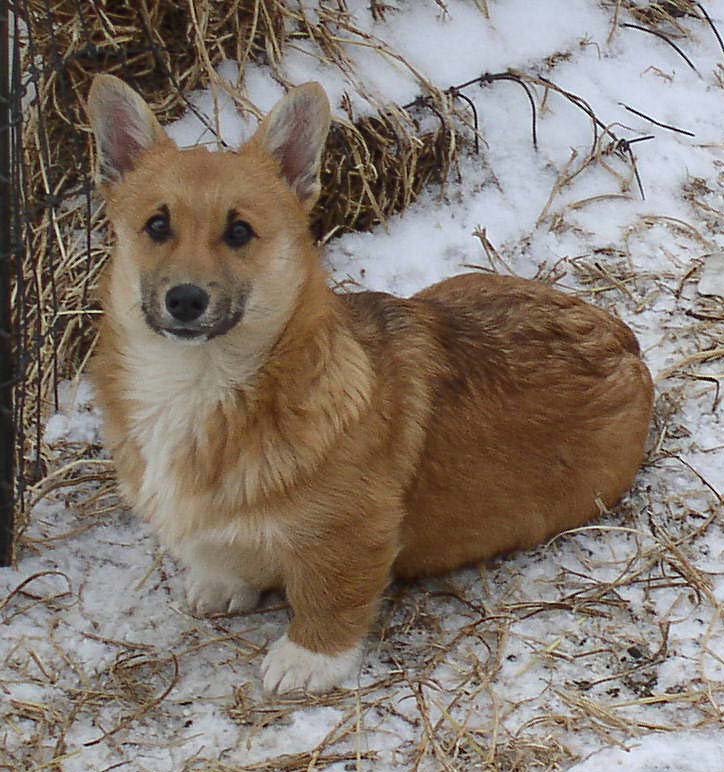 Felix
Sable male with white on paws & chest – this correct & stocky-built guy is very smart & sweet, & independent-minded. He shows good working drive & will need a home who's experienced in the herders, with the human who's training him being an experienced one, who's also as strong-willed as he is, who will be able to properly train him as he will likely be a bit of a challenge. This guy will be one who will test you, your abilities & certainly your patience, & will require a *very* consistent & FIRM (NOT to be confused with "severe", as Corgis in general do not respond well to severe forms of correction) approach to training/correcting, b/c he's also a little smarty!
(Sidenote: He had an older full brother who started out the same way but who, once he WAS trained, settled right down into a truly delightful, very biddable & cooperative dog. . . just needed a human who was just as smart & stubborn as he was, to teach him HOW to be a "contributing member of society", LOL)
This guy will ONLY be available to an experienced farm/competition home who will be able to provide him w/ the proper training & environment necessary to his (& his humans') overall well-being.
2/11 UPDATE: Felix has indeed settled down considerably, with some more maturity on him. He's doing well on training, inside & outside, is a willing & biddable boy who likes to please, buttttttttt . . . he hasn't yet gotten over his philosophy that his ideas are better than the human's, LOL.
He does great w/ the goats & poultry, showing very good drive, heading & heeling.