first freshening/just a few hours' milk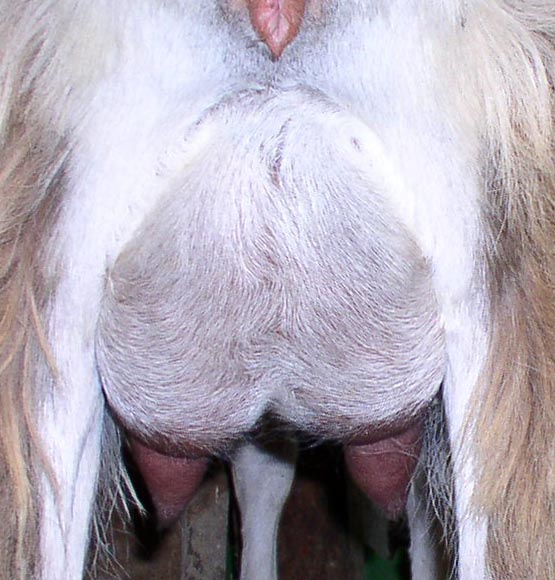 (nursing her single boy & an adopted boy)
Lost Nation WFRBR Charleston
2006 - 75%AT 25%AA - brown with correct white markings
Charlie took it upon herself to breed sooner than was planned & kidded just after her 1st birthday. She'd just had a single, so I wasn't all that concerned . . . until I realized how much milk she'd decided to produce, too, LOL! I grafted another buckling on her w/ the big plan being that they'd be going for a BBQ shortly after & I'd just dry her off, so she could concentrate on catching up w/ herself. Well, guess what. She didn't want to cooperate w/ THAT idea, either! I finally managed to get her worked into 1x/day milking to hopefully help her be able to put at least a little bit of her energy toward catching up & . . . whew. She finally cooperated w/ at least ONE of my plans, LOL!
Although she had to be prematurely graduated to "the mature doe/milker barn" & live w/ some older/bigger/stiffer competition, she adapted w/ surprising ease, esp. taking into consideration her gentle naturedness. Better yet, she milked very nicely - even going to a 1x/day routine - AND she indeed managed to put on some height & fill out, too. Whatta gal!
Even better? She's developing into a lovely, lovely doe who is improved over her (extremely nice, I must say!) dam in shoulder assembly & in overall sharpness, dairyness & smoothness of blending. &, in mammary, too in the areas of rear height/arch, lateral attachment, overall globularity & length/smoothness of fore-udder.
The breeding that produced this very promising young lady was repeated for the 3rd time for 2009 in hopes of another like her! (which produced a single buck for 2008, naturally. :( )